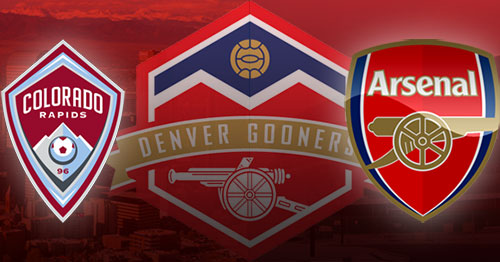 Arsenal vs Colorado Rapids
Monday, July 15, 2019 – 7pm
Dicks Sporting Goods Park
Arsenal are coming to Denver in July 2019. Please use this page for up-to-date info about obtaining tickets and attending events when Arsenal are in town.
Tickets
ArsenalAmerica.com will be giving access to tickets in the supporters section to its members who are signed up for a 2019/2020 membership.
The fee is $25 to become a member, and you will be able to purchase tickets through them for any ICC match or the match against the Rapids. This is the only way to obtain tickets in the Arsenal supporters section as we understand it.
Our friends in Centennial 38 have a block of tickets in section 117 which they are selling at link: C38 Offer
Note that this is traditionally the C38 supporters section, but they have extended an invitation to any Arsenal supporters for the evening.
These items will be available throughout the weekend only at the official events starting Friday 12 July though Monday at the tailgate.
Poster
Oversized 18″x24″, hand-screened on heavy matte paper. Numbered and signed by artist
Keith Laubhan
Shirts
Both Men's and Women's sizes, screen printed on premium Bella / Canvas ultrasoft jersey tee
WARNING
Denver is a mile above sea level
Please be aware of the effects high altitude has on your body, particularly while drinking alcohol or exercising.
Drink plenty of water. You need an additional 1 – 2 liters of water at high altitude.
Wear sunscreen. The atmosphere is thinner and sunburns happen more quickly at altitude.
Drinking effects you differently at altitude. Particularly, it's known to take less drinks to feel drunk and it's easier to get dehydrated while drinking, so drink more water and less booze when drinking a mile high.
Learn the symptoms of altitude sickness. Seek help immediately if you start feeling any of the symptoms at link: Altitude Sickness Symptoms